Coronation Tapestry is a beautiful fabric, and is very pretty on some vestments. It makes for a lovely orphery or trim. It can be a beautiful accent fabric. Here are some examples of tasteful use of Coronation Tapestry.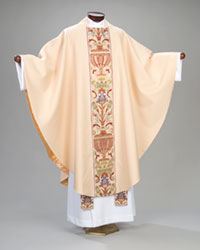 On occasion however too much of a good thing becomes a problem. Here are some examples...
Here is my final thought...
All things in moderation...
Now I'm done...